The Client
NAGA Pay was a newly established money banking and investment app that introduced customers to a wide range of transaction, trading and money management services. By providing users with a multitude of convenient ways to buy, pay and spend, the brand wanted to raise awareness and engagement about its product and services, which is where we introduced an extensive performance campaign to get the word out there about the app's functions, capabilities and launch.
The Campaign
Our strategic goals were twofold and were realised in a multichannel campaign. Firstly, we seeked to introduce the product and make a first touchpoint with audiences in order to continue building upon that familiarity in the future. Secondly, we focused on engagement that would allow us to interact with audiences and trigger them to download the app. Our performance campaign objectives targeted reach and awareness, traffic to the website, and conversions in the form of app installs. Along with Remarketing ads on Facebook and Google, we were able to keep reminding audiences of the brand's unique value propositions in order to retarget visitors to the website.
Our targeted audiences were lifestyle and experienced users between the ages of 22 and 45, who had interests that varied from shopping and technology all the way to invested traders. Our campaign also consisted of a vast collaboration with APOEL, where we utilised the sports team's name to expand our awareness and reach, along with a giveaway competition with Public that gave a great boost to our engagement ad campaign.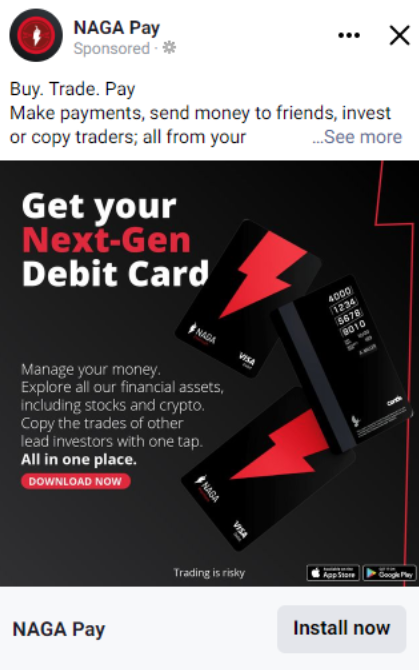 The Execution
We utilised the entire spectrum of the digital realm, by introducing campaigns and advertisements on all platforms, such as Facebook, Instagram, LinkedIn, Twitter, TikTok and Google. Our performance execution included media banners on Kerkida.net, where with catchy copy and visuals we showcased the collaboration with APOEL, along with an extensive article on the sports website. Similarly, our ads' messaging across the board about the app's unique selling points and value proposition, was concise, intriguing and informative in order to attract audiences' attention and get them interested in downloading and navigating the app.  
META Engagement Advertisement: 
Impressions
2.9 million 
Reach
1.4 million 
App Installs
340
Total META Advertisement:
Impressions
7.6 million
Reach
878K 
Link Clicks
22K
App Installs
723
 
Are you interested in our work and services? All you have to do is send a message!