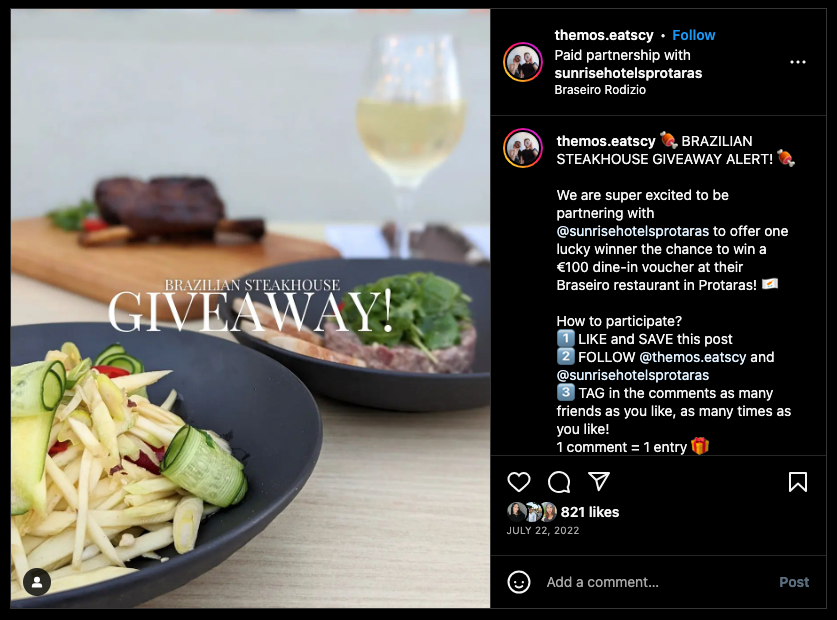 The Challenge

Sunrise Hotels owns and operates 5 hotels with restaurants that aim in making dining in them a treasured part of their guests' holiday experience. These restaurants take guests on a gastronomic journey, offering dishes from a great selection of cuisines including Italian, Brazilian, American and Greek.
These restaurants even though they are a part of the hotels are available to anyone looking to experience a high-quality dining experience. In order to increase awareness about the restaurants as well as increase visitors, our team was tasked to build a strategy to promote them.
Since the beginning of our collaboration, we have been promoting the restaurants through our Social Media Channels as part of our monthly calendar. However, to reach our goals, we needed a more dynamic approach to reach as many people as possible before and during summer when most people would visit that area.
The challenge we were called to face was the great competition in Protaras during summer. To add to that, since most of the restaurants are not inside the hotels but rather next to them, on the main road, people weren't aware of the fact that these restaurants belonged to Sunrise Hotels.
The Approach

To overcome this challenge, we needed to create great awareness for the restaurants. For this campaign, we would promote four of the restaurants under the company, based on the client's needs.
The restaurants we were called to promote were Ginger Fine Dining, Braseiro Rodizio Brazilian Steakhouse, Kyklos Greek Restaurant and Reef American Grill. In order to get people to learn and be interested in these restaurants, we prepared an Influencer Collaboration with three of the island's most well-known Instagram Food Bloggers. The plan was for these influencers to visit some of our restaurants., share stories and posts on their Instagram account and create content that we could share on our Social Media. We made the selection of which bloggers would visit each restaurant based on their experience and the different needs of each restaurant.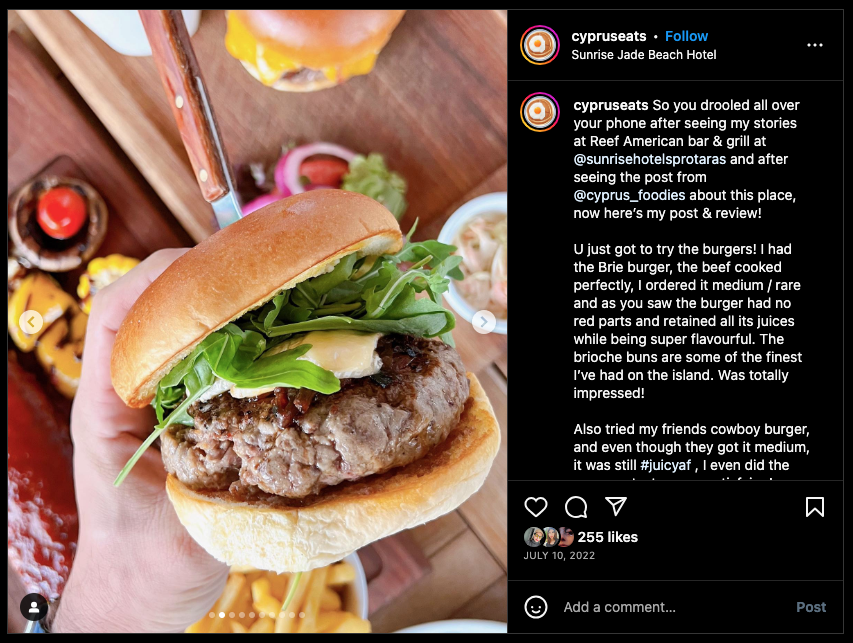 The Execution
To make this collaboration effective and achieve the results that we aimed for, we needed to create a cohesive strategy and have great communication with both the client and the food influencers. Firstly, we prepared a plan that included the deliverables, budget and content creation examples. Then, we shared this plan with our client to make sure that we were on the same page and afterwards we also forwarded the plan to the influencers. That way we were making sure that we would get the number of deliverables we agreed on, while also ensuring the quality of the content created matched the quality of the restaurants and brand in general. After all, the content created by these bloggers was going to be available for us in order to use it as well on our Social Media.
This campaign was running over a period of 3 months, during which we managed to reach a great number of people while also increasing our followers. During the campaign, we also run a competition with one of the foodies, which resulted in very high engagement and a visible increase in our Instagram account's fanbase.
The food bloggers created and shared with us amazing content which helped us renew our content and have our account looking interesting and fresh. In total, they shared 4 reels, 5 posts, 1 competition and more than 100 stories.
Overall, through this campaign, we achieved our goals with more people learning about our restaurants. We showcased the restaurants as high-quality summer dining destinations and got people interested enough to visit them and enjoy an amazing food experience!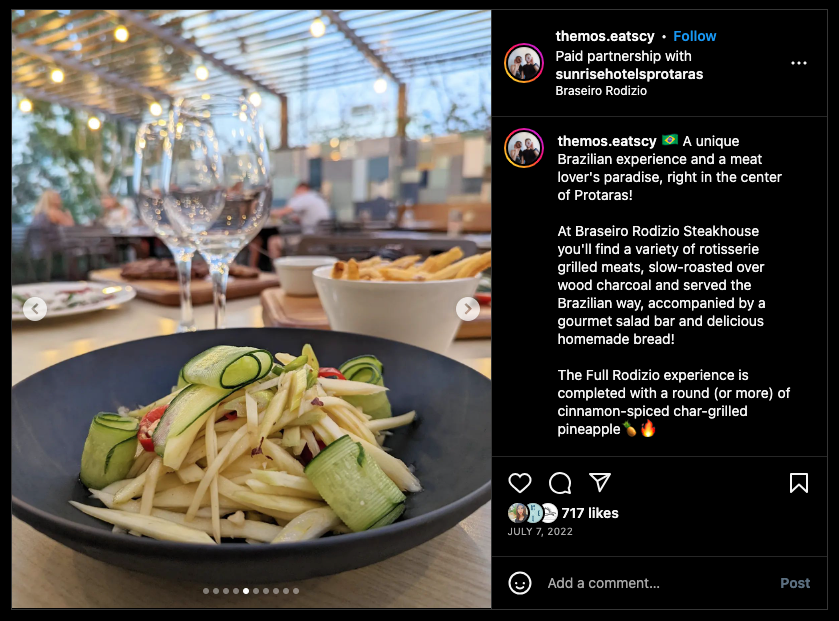 Are you interested in our work and services? All you have to do is send a message!