The Client
Visit Cyprus is the official tourism body of Cyprus and a prominent player in promoting the island as a must-visit destination. With numerous destinations vying for travellers' attention, the Deputy Ministry of Tourism was looking for ways to stand out in a highly competitive landscape and maintain high brand visibility in the digital world. With plenty of valuable resources, insights and guidance for providing travellers with a smooth, memorable experience, the Deputy Ministry decided to utilise its inactive Pinterest account for showcasing the destination's assets and utilise the platform's highlyinfluential visual appeal to get people inspired during their decision-making process, boost traffic and drive them to our linked content. 

The Objective
Pinterest was an opportunity to delve into an infinite loop of discovery for Visit Cyprus, and ultimately the expanded promotion of the island. It was a prime platform for our advertising purposes due to its visual-centric nature, which we utilised to its full extent for the Deputy Ministry and allocation of pins in the profile. With new thematics, which represented important attraction pillars for Cyprus, such as Gastronomy, Wine Routes and Beach, Sea & Sun, we were able to strategically highlight unique attractions by curating captivating boards that catered to different interests. 
 

Moreover, we executed an SEO-driven strategy by utilising keyword optimisation to increase the discoverability of pins and reach a wider audience that extended to European countries, such as France, Poland, Germany and the UK. We launched two campaigns, one on traffic and one on awareness, and our target audiences included family travellers, history enthusiasts, nature lovers and adventure seekers to capture all facets of tourism. With every pin being connected to an external link, along with compelling captions and CTAs for the ads, we seeked to encourage users to save and share them to expand our campaign's reach and engagement.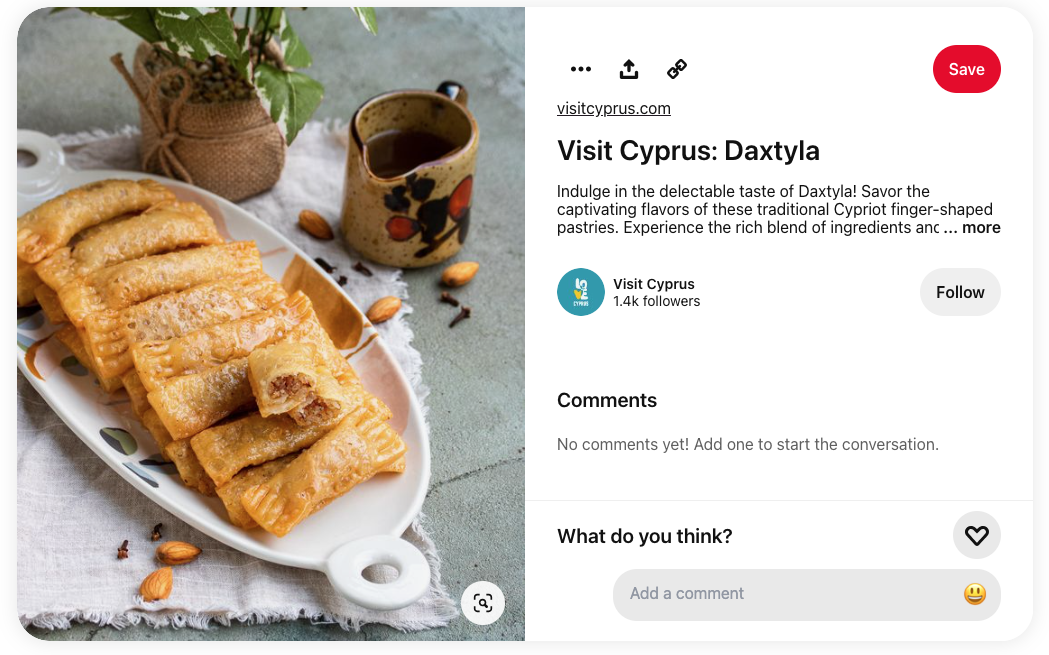 The Execution
With a multi-faceted, creative and performance-driven approach throughout August 2023, we were able to meet our goals of traffic and awareness with big success across the board, which translated to close to 2 million impressions. Our targeted Poland campaign gained the most impressions with 662,246 in total and the highest traffic with 2,312.
Impressions
1,833,520
Pin Clicks
21,579
Outbound Clicks
6,221
CTR
1.23% 
Are you interested in our work and services? All you have to do is send a message!